Rounding out the champions were...and Anthony Artalona (Florida)... Artalona, ranked No. 17 in the Class of 2018, beat Jarod Verkleeren (Pennsylvania) 2-1 in the 145 pound final; Verkleeren, a Cadet World freestyle champion last year, is ranked No. 24 in the Class of 2017.
See below for complete article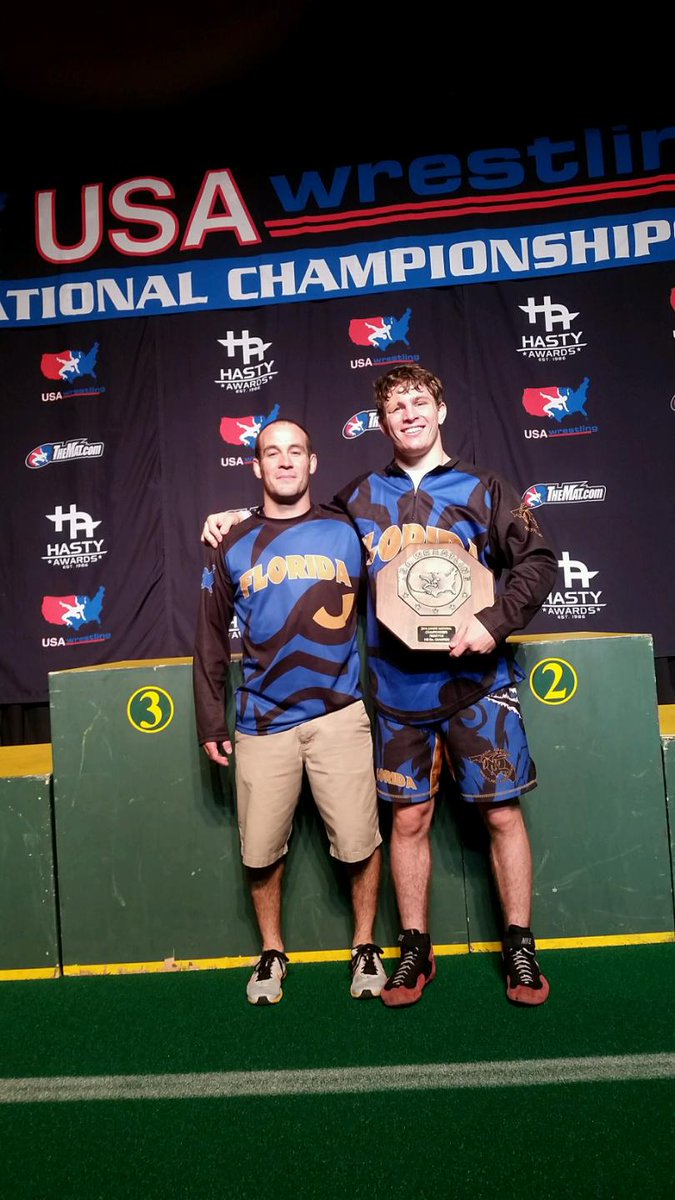 FARGO, N.D. -- Another year of Fargo has reached its conclusion, as the Junior National freestyle finals were held on Saturday morning. Fifteen champions were crowned on the raised mat of the Fargodome located on the campus of North Dakota State University.
A pair of top 20 ranked graduated seniors swept through the Greco-Roman and freestyle tournaments in their last competition as high school athletes. No. 14 Samuel Colbray (Oregon) won his first freestyle title after two previous runner-up finishes (once as a Junior) to go with four Greco-Roman titles in his Fargo career. The Iowa State bound scored his sixth technical fall victory in as many matches, giving points for the first time in the tournament, during a 15-4 finals victory over Keegan Moore (Minnesota) at 220 pounds.

No. 17 Griffin Parriott (Minnesota) has six technical falls from seven matches during his run to the freestyle title at 152 pounds, giving up points in only one of his seven bouts. The Purdue-bound Parriott upended fellow returning Junior freestyle All-American Zander Wick (California) by 10-0 technical fall in the championship bout.

Five other Class of 2016 wrestlers also won Junior freestyle titles before starting their collegiate careers shortly. Ian Parker (Michigan) and Gannon Gremmel (Iowa) joined Colbray in making it three soon-to-be Cyclones as champions on Saturday.

Parker, ranked No. 72 overall in the Class of 2016, upset defending champion Taylor LaMont (Utah) 3-2 in the final; LaMont finished as the No. 23 prospect in the graduated senior class, and won the Greco title earlier in the week. Gremmel, ranked No. 43 overall in the Class of 2016, scored his fourth technical fall from six bouts in a 14-4 finals victory at 285 pounds over Anthony Cassioppi (Illinois).

Also winning gold were the Missouri-bound Canten Marriott (Missouri), the Minnesota-bound Owen Webster (Minnesota), and Cornell-bound Ben Darmstadt (Ohio). Marriott scored a 6-5 victory at 170 pounds over Owen Pentz (Utah). Webster, ranked No. 48 overall in the Class of 2016, upended fellow returning Junior freestyle All-American Kevin Parker (New York) by 10-0 technical fall in the 182 pound final; it was the fifth technical fall for Webster from seven tournament bouts. Darmstadt, ranked No. 28 in the graduated senior class, earned Outstanding Wrestler after securing four shutout technical falls and two pins from six tournament bouts. The championship match for Darmstadt was a 10-0 technical fall over John Borst (Virginia) at 195 pounds.

Joining Parker in denying wrestlers a sweep of the Junior titles during the Fargo week were Malik Heinselman (Colorado) and Gavin Teasdale (Pennsylvania), both of whom are two-time Cadet World Team members in freestyle. Heinselman upended fellow Colorado state champion Brendon Garcia by 15-5 technical fall at 100 pounds, while Teasdale, ranked No. 3 in the Class of 2018, beat Dalton Duffield (Oklahoma) by 8-6 decision at 120 pounds.

The lone wrestler to repeat as a Junior freestyle champion this year was Jason Holmes (Arizona), who beat Rayvon Foley (Michigan) 7-2 in the 106 pound final. His four previous matches were technical fall victories, including a semifinal victory over two-time Junior Greco champion Jaret Lane (Pennsylvania), whom Holmes had beaten in last year's final.

Three elite rising seniors won Junior freestyle titles on Saturday, No.5 in the Class of 2017 Nick Lee (Indiana), No. 13 Austin Gomez (Illinois), and No. 34 Jake Allar (Minnesota).

Lee beat Kanen Storr (Michigan), ranked No. 45 in the Class of 2016, in an 11-10 barn-burner at 138 pounds; prior to the final, all six of Lee's matches were technical fall victories. Gomez pinned Paul Konrath (Indiana), who is ranked No. 45 in the Class of 2017, in 1:44 in the 126 pound final. Allar scored a 10-0 technical fall victory over Max Wohlabaugh (Florida) in the 160 pound final. It was the third shutout tech for Allar to go with three pins in seven matches, while Wohlabaugh finished as runner-up in both tournaments.

Rounding out the champions were Nico Aguilar (California) and Anthony Artalona (Florida). Aguilar replicated his victory from the 2014 Cadet freestyle final by beating Dylan D'Emilio (Ohio) 12-7 in the 113 pound final; D'Emilio was a Cadet freestyle champion last year and also a Cadet World Team member last year. Artalona, ranked No. 17 in the Class of 2018, beat Jarod Verkleeren (Pennsylvania) 2-1 in the 145 pound final; Verkleeren, a Cadet World freestyle champion last year, is ranked No. 24 in the Class of 2017.

Results:
100: Malik Heinselman (Colorado) tech. fall Brendon Garcia (Colorado), 15-5
106: Jason Holmes (Arizona) dec. Rayvon Foley (Michigan), 7-2
113: Nic Aguilar (California) dec. Dylan D'Emilio (Ohio), 12-7
120: Gavin Teasdale (Pennsylvania) dec. Dalton Duffield (Oklahoma), 8-6
126: Austin Gomez (Illinois) fall Paul Konrath (Indiana), 2:43
132: Ian Parker (Michigan) dec. Taylor LaMont (Utah), 3-2
138: Nick Lee (Indiana) dec. Kanen Storr (Michigan), 11-10
145: Anthony Artalona (Florida) dec. Jarod Verkleeren (Pennsylvania), 2-1
152: Griffin Parriott (Minnesota) tech. fall Zander Wick (California), 10-0
160: Jake Allar (Minnesota) tech. fall Max Wohlabaugh (Florida), 10-0
170: Canten Marriott (Missouri) dec. Owen Pentz (Utah), 6-5
182: Owen Webster (Minnesota) tech. fall Kevin Parker (New York), 10-0
195: Benjamin Darmstadt (Ohio) tech. fall John Borst (Virginia), 10-0
220: Sam Shields-Colbray (Oregon) tech. fall Keegan Moore (Minnesota), 15-4
285: Gannon Gremmel (Iowa) tech. fall Anthony Cassioppi (Illinois), 14-4